Untung99 menawarkan beragam permainan yang menarik, termasuk slot online, poker, roulette, blackjack, dan taruhan olahraga langsung. Dengan koleksi permainan yang lengkap dan terus diperbarui, pemain memiliki banyak pilihan untuk menjaga kegembiraan mereka. Selain itu, Untung99 juga menyediakan bonus dan promosi menarik yang meningkatkan peluang kemenangan dan memberikan nilai tambah kepada pemain.
Berikut adalah artikel atau berita tentang Harian 168megagacor.com dengan judul 168megagacor.com: Albert Collins Biography Songs Albums yang telah tayang di 168megagacor.com terimakasih telah menyimak. Bila ada masukan atau komplain mengenai artikel berikut silahkan hubungi email kami di koresponden@168megagacor.com, Terimakasih.
Albert Collins, "The Master of the Telecaster," "The Iceman," and "The Razor Blade" was robbed of his best years as a blues performer by a bout with liver cancer that ended with his premature death on November 24, 1993. He was just 61 years old. The highly influential, totally original Collins, like the late John Campbell, was on the cusp of a much wider worldwide following via his deal with Virgin Records' Pointblank subsidiary. However, unlike Campbell, Collins had performed for many more years, in obscurity, before finally finding a following in the mid-'80s.
Collins was born October 1, 1932, in Leona, TX. His family moved to Houston when he was seven. Growing up in the city's Third Ward area with the likes of Johnny "Guitar" Watson and Johnny "Clyde" Copeland, Collins started out taking keyboard lessons. His idol when he was a teen was Hammond B-3 organist Jimmy McGriff. But by the time he was 18 years old, he switched to guitar, and hung out and heard his heroes, Clarence "Gatemouth" Brown, John Lee Hooker, T-Bone Walker and Lightnin' Hopkins (his cousin) in Houston-area nightclubs. Collins began performing in these same clubs, going after his own style, characterized by his use of minor tunings and a capo, by the mid-'50s. It was also at this point that he began his "guitar walks" through the audience, which made him wildly popular with the younger white audiences he played for years later in the 1980s. He led a ten-piece band, the Rhythm Rockers, and cut his first single in 1958 for the Houston-based Kangaroo label, "The Freeze." The single was followed by a slew of other instrumental singles with catchy titles, including "Sno-Cone," "Icy Blue" and "Don't Lose Your Cool." All of these singles brought Collins a regional following. After recording "De-Frost" b/w "Albert's Alley" for Hall-Way Records of Beaumont, TX, he hit it big in 1962 with "Frosty," a million-selling single. Teenagers Janis Joplin and Johnny Winter, both raised in Beaumont, were in the studio when he recorded the song. According to Collins, Joplin correctly predicted that the single would become a hit. The tune quickly became part of his ongoing repertoire, and was still part of his live shows more than 30 years later, in the mid-'80s. Collins' percussive, ringing guitar style became his trademark, as he would use his right hand to pluck the strings. Blues-rock guitarist Jimi Hendrix cited Collins as an influence in any number of interviews he gave.
Through the rest of the 1960s, Collins continued to work day jobs while pursuing his music with short regional tours and on weekends. He recorded for other small Texas labels, including Great Scott, Brylen and TFC. In 1968, Bob "The Bear" Hite from the blues-rock group Canned Heat took an interest in the guitarist's music, traveling to Houston to hear him live. Hite took Collins to California, where he was immediately signed to Imperial Records. By later 1968 and 1969, the '60s blues revival was still going on, and Collins got wider exposure opening for groups like the Allman Brothers at the Fillmore West in San Francisco. Collins based his operations for many years in Los Angeles before moving to Las Vegas in the late '80s.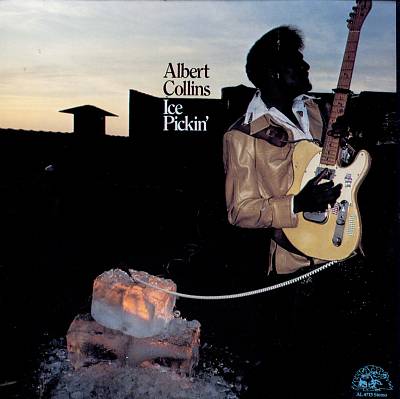 He recorded three albums for the Imperial label before jumping to Tumbleweed Records. There, several singles were produced by Joe Walsh, since the label was owned by the Eagles' producer Bill Szymczyk. The label folded in 1973. Despite the fact that he didn't record much through the 1970s and into the early '80s, he had gotten sufficient airplay around the U.S. with his singles to be able to continue touring, and so he did, piloting his own bus from gig to gig until at least 1988, when he and his backing band were finally able to use a driver. Collins' big break came about in 1977, when he was signed to the Chicago-based Alligator Records, and he released his brilliant debut for the label in 1978, Ice Pickin'. Collins recorded six more albums for the label, culminating in 1986's Cold Snap, on which organist Jimmy McGriff performs. It was at Alligator Records that Collins began to realize that he could sing adequately, and working with his wife Gwen, he co-wrote many of his classic songs, including items like "Mastercharge," and "Conversation With Collins."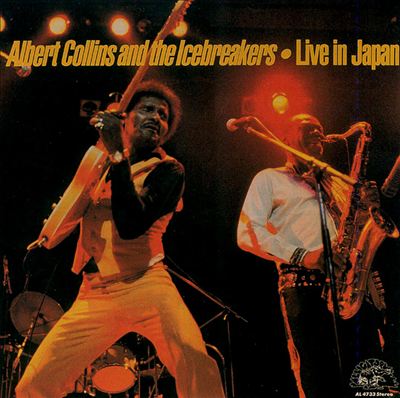 His other albums for Alligator include Live in Japan, Don't Lose Your Cool, Frozen Alive! and Frostbite. An album he recorded with fellow guitarists Robert Cray and Johnny "Clyde" Copeland for Alligator in 1985, Showdown! brought a Grammy award for all three musicians. His Cold Snap, released in 1986, was nominated for a Grammy award.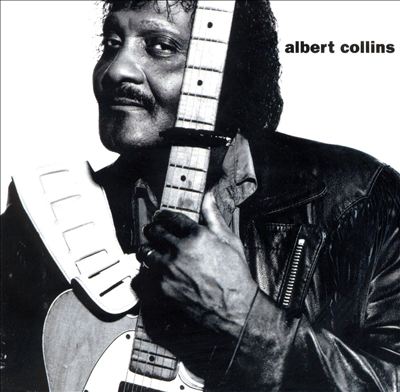 In 1989, Collins signed with the Pointblank subsidiary of major label Virgin Records, and his debut, Iceman, was released in 1991. The label released the compilation Collins Mix in 1993. Other compact-disc reissues of his early recordings were produced by other record companies who saw Collins' newfound popularity on the festival and theater circuit, and they include Complete Imperial Recordings on EMI Records (1991) and Truckin' With Albert Collins (1992) on MCA Records. Collins' sessionography is also quite extensive. The albums he performs on include David Bowie's Labyrinth, John Zorn's Spillane, Jack Bruce's A Question of Time, John Mayall's Wake Up Call, B.B. King's Blues Summit, Robert Cray's Shame and a Sin, and Branford Marsalis' Super Models in Deep Conversation.
Although he'd spent far too much time in the 1970s without recording, Collins could sense that the blues were coming back stronger in the mid-'80s, with interest in Stevie Ray Vaughan at an all-time high. Collins enjoyed some media celebrity in the last few years of his life, via concert appearances at Carnegie Hall, on Late Night with David Letterman, in the Touchstone film, Adventures in Babysitting, and in a classy Seagram's Wine Cooler commercial with Bruce Willis. The blues revival that Collins, Vaughan and the Fabulous Thunderbirds helped bring about in the mid-'80s has continued into the mid-'90s. But sadly, Collins has not been able to take part in the ongoing evolution of the music.