Berikut adalah artikel atau berita tentang uncategorized dengan judul Visa issues wont hurt New Yorks Irish trip yang telah tayang di 168megagacor.com terimakasih telah menyimak. Bila ada masukan atau komplain mengenai artikel berikut silahkan hubungi email kami di admin@168megagacor.com Terimakasih.
New York manager Johnny McGeeney has said that immigration concerns will not impact their panel for their upcoming trip to Ireland for the Connacht semi-final with Sligo on 22 April.
The Armagh native was speaking to RTÉ'S Sunday Sport in the wake of their historic provincial win over Leitrim in the Bronx – New York's first-ever championship win – and he said that last year's trip to Ireland for a Tailteann Cup meeting with Offaly has smoothed the way.
"No, my only concern is injuries," was his reply when asked about whether or not some players would opt not to appear at Markievicz Park.
"Out of the 43 lads that we kept on, 40 of them were able to go home [for the Offaly game] so we have no problem that way."
Not only was the Leitrim win New York's greatest ever night, it also led to an extra smile between McGeeney and midfielder Johnny Glynn given that the former Galway hurler had told him all the way back in January that they would win on penalties.
By that stage New York were already well into their preparations for the game, a sign of just how seriously they took the fixture.
"I've never felt as confident in a team from when we got beat by Sligo and then we got the tanking off Offaly at home," McGeeney continued.
"We gathered that night and we spoke and when we held our first training session…usually you wouldn't do it until January but I said I'd go against it, and I went two weeks before Christmas.
"I just put out a message to see if anyone was interested and from last year, 95% of the lads returned and that was a big lift.
"I knew there and then."
McGeeney can now look forward to meeting his old neighbour Tony McEntee, currently in charge of Sligo, and with this win under their belt, whatever happens from here it has been a story to remember.
"I know the TV didn't catch it but I was sitting on the waterbox, I didn't watch the penalties I was just going by the reaction of the crowd.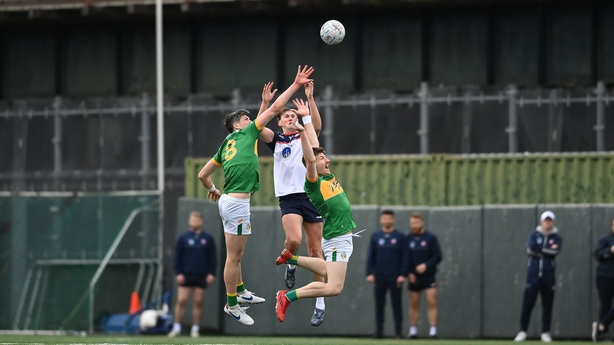 "When I knew 'Brosy' [Mikey Brosnan] was stepping up last I knew he was going to score because he actually didn't care if he scored or not.
"I know that doesn't make sense, but he's never won before, he's never known any different. He grew up playing in New York since he was no age, I just knew when he was stepping up it was going to happen."
McGeeney also had some words of encouragement for Leitrim manager Andy Moran and said that people needed to realise just how difficult a game in Gaelic Park can be.
"I spoke back to someone on Twitter who said it was Leitrim's worst performance ever, but you have to understand they travelled 3,000 miles, they're coming to our back yard, they're playing at 11 o'clock at night.
"You have to respect that you can't just turn around and tell them it's their worst performance ever.
"It's going to be the same for us going back to Ireland in two weeks."
Artikel atau berita di atas tidak berkaitan dengan situasi apapun, diharapkan bijak dalam mempercayai atau memilih bacaan yang tepat. Terimakasih.